The truth is about how a well-known politician lives
After moving from Maidan from Vinnitsa to Kiev, Vladimir Groisman did not officially acquire his own real estate in the capital. Where does the head of the Ukrainian government live? The "schemes" found out that the Prime Minister and his family live in one of the most prestigious residential complexes of the capital – Novopecherskie Lipki. True, luxury apartments are not decorated in the very premiere, but on his mother-in-law, who herself lives in Vinnitsa. Are the wealthy parents of the politician's wife taken, as they say, "in accept"? Or did Groysman buy the apartment, simply, according to a bad bureaucratic tradition, by issuing elite property to a relative? Investigation of the program "Schemes", a joint project of Radio Liberty and the channel "UA: First."
Recently, Ukrainian Prime Minister Volodymyr Groysman amazed citizens by saving one and a half million dollars in cash – this is what he noted in his electronic declaration.
"Today completed filling out an electronic declaration. As I said earlier, for me it was not particularly difficult, because over the past ten years I have been submitting declarations in various posts every year — first as mayor of Vinnitsa, then as deputy prime minister and chairman of the Verkhovna Rada. My declarations are publicly available. They have both my income and my property, which was mainly acquired by me as an entrepreneur before 2006, when I came to power, "wrote Prime Minister of Ukraine Volodymyr Groysman on his Facebook page after submitting a declaration .
In addition to cash, Prime Minister Groisman, who began his rapid political career in Vinnitsa, declared his property in Vinnytsia and the land there. But in Kiev, where Groisman moved after Maidan, he officially has no real estate. Where does he live?
Prime Minister`s weekdays
22:30 The film crew of the Scheme program records how the prime minister's motorcade leaves the government house.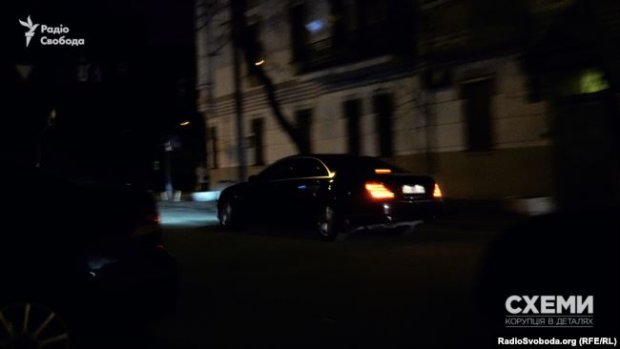 The cortege of Prime Minister Groisman drives off from the government house
After only 13 minutes, this same motorcade enters under the barrier of the elite residential complex Novopecherskie Lipki.